Fellow Pistachions, 
Check it out!  We've got a new release to share with you.  It's called Damn You, Thunderhead.  The Bay Bridged had some kind things to say about it and we're beyond excited to finally share it with the world. Listen here. 
(And while you're at it, take a listen to the first single, Funny Thing) 
It's been a while since we last reached out and we wanted to let you know about a few things coming up in the world of Pistachio.   
First and foremost, in just 4 days (on Tuesday that is), we release our debut album, Explorer.  Clocking in at just over an hour, this album is the culmination of the past 18 months of traveling, writing, and exploration and we can't wait to put it out there.  If you're feeling generous, we've set up a pre-sale and really appreciate the support.  Click here to get a copy!   
In celebration of our release, come join us on Friday March 15th at The Starline Social Club in Downtown Oakland for a night of nutty grooves, dancing, and adventure.  We'll be performing the album from start to finish and are joined by our good friends Bear Lincoln and The HA.  Full details here.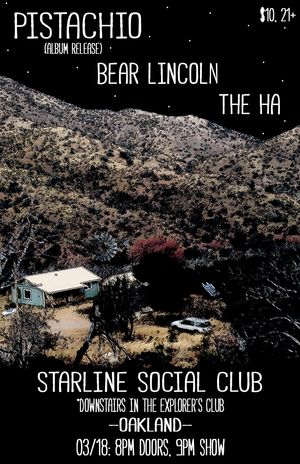 Finally, we're happy to announce our spring tour dates.  We're likely coming to a place near you and we'd love to see your face out there.  Let us know if your planning to come and we'll do all we can to connect!  More details on all the dates can be found here.   
4/1 - LA, The Resident 
4/2 - Pasadena, Old Towne Pub 
4/5 - Palm Desert, Red Barn 
4/6 - Redlands, Hangar 24 Brewery 
4/7 - Tucson, Skybar 
4/8 - Phoenix, Lost Leaf 
4/9 - Flagstaff, Monte Vista Lounge 
4/13 - Taos, Adobe Bar 
4/15 - Santa Fe, Zephyr 
4/16 - Albuquerque - The Co-op 
4/19 - Norman, Red Brick Pizza 
4/21 - Houston, Acadia Bar and Grill 
4/22 - San Antonio, Sancho's 
4/23 - Dallas, Bryan Street Tavern 
4/24 - Austin, Cheer Up Charlie's 
4/27 - Houston, Super Happy Funland 
4/28 - Austin, Hole in the Wall 
4/29 - Memphis, Flying Saucer Draught Emporium 
4/30 - Baton Rouge, Lock and Key Whiskey Bar 
5/4 - New Orleans, Siberia 
5/5 - Pensacola, Bamboo Willies 
5/6 - Athens, Terrapin Brewing Co. 
5/7 - Nashville, Foo Bar 
5/11 - Chicago, Emporium Arcade Bar 
5/12 - Chicago, Hallowed Grounds 
5/13 - Milwaukee, Art Bar 
5/15 - Minneapolis, Acadia Bar and Grill 
5/18 - Iowa City, Gabe's Oasis 
5/19 - Des Moines, Lefty's 
5/20 - Burlington, The Washington 
5/22 - Lincoln, Duffy's Tavern 
5/25 - Denver, Quixote's True Blue 
5/26 - Boulder, Owsley's Golden Road 
5/27 - Dillon, Lake Dillon Tavern 
5/28 - Pocatello, First National 
6/2 - Vancouver, LanaLou's 
6/9 - Seattle, Blue Moon 
6/11 - Tacoma, Doyle's Public House 
6/17 - Portland, Kelly's Olympian 
6/18 - Hood River, River City Saloon 
6/19 - Eugene, Sam Bonds Garage 
6/24 - Medford, Howees on Front 
6/25 - Arcata, Jambalaya 
These past few months have been a whirlwind of excitement for us.  Thanks for being part of our journey.     
Love, 
Pistachio