Hey Friends,

Over the past few months we've experienced so much love and support from all of you and we cannot express enough how deeply grateful we are to have the opportunity to play music for you week in and week out.  These experiences have made it unequivocally clear that there is nothing we would rather be doing with our lives and for this reason, we write to you with big news.    
It is with great pleasure that we announce our first summer tour.  Starting June 27th with a hometown show in Oakland, CA at Awaken Cafe, we embark on a journey of whats shaping out to be epic proportions.  With stops in California, Arizona, New Mexico, Colorado, Utah, Idaho, Washington, and Oregon, the Western United States is about to meet Pistachio.    
Below is the full schedule of dates, please visit our 
website
 for more info!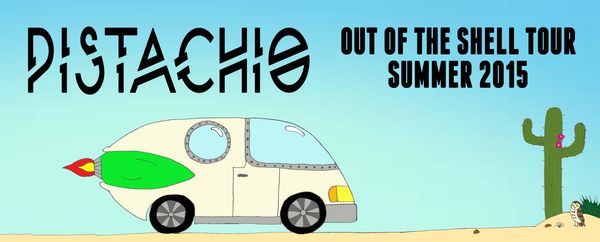 Out of the Shell Tour 2015
6/27 Oakland, CA - Awaken Cafe
6/29 Santa Cruz, CA - The Crepe Place
7/2 San Diego, CA - Brick By Brick
7/6 Los Angeles, CA - The Mint
7/8 Flagstaff, AZ - Monte Vista Lounge
7/9 Prescott, AZ - Raven Cafe
7/10 Phoenix, AZ - Cactus Jacks
7/11 Tucson, AZ - Monterey Court
7/17 Silver City, NM - Little Toad Creek Brewery and Distillery
7/18 Albuquerque, NM - Burt's Tiki Lounge
7/19 Santa Fe, NM - The Underground at Evangelo's
7/21 Taos, NM - Taos Mesa Brewing
7/24 Moab, UT - The Blu Pig
7/25 Dillon, CO - Lake Dillon Tavern
7/30 Windsor, CO - Ricky B's Sports Pub and Music Venue
7/31 Denver, CO - Bushwackers
8/1 Boulder, CO - The Laughing Goat
8/6 Salt Lake City, UT - Green Pig Pub
8/7 Park City, UT - The Cabin
8/8 Pocatello, ID - First National
8/12 Boise, ID - Highlands Hollow Brewhouse
8/13 Spokane, WA - Checkerboard
8/14 Kennewick, WA - The Roxy Bar
8/15 Tacoma, WA - Bob's Java Jive
8/16 Olympia, WA - Le Voyeur
8/19 Seattle, WA - Seamonster Lounge
8/20 Cottage Grove, OR - Axe and Fiddle
8/22 Hood River, OR - Trillium Cafe
8/24 Salem, OR - Triangle Inn
8/26 Portland, OR - Ash Street Saloon
8/27 Arcata, CA - Jambalaya
Secondly, we're happy to announce that we're also working on a new single and music video for our song, Jungle Diary.  Stay tuned - we're really excited for this one!  
Finally, June is packed full of shows, including our premiere at First Fridays in Oakland and another live webcast concert for those of you not in the Bay Area.  
Upcoming Bay Area Shows
6/4 San Francisco - Off the Grid Haight St
6/5 Oakland - First Fridays 23rd and Telegraph Stage
6/7 Pleasanton - Off the Grid Pleasanton
6/16 Planet Earth - Live Pistachio Webcast 
6/27 Oakland - Awaken Cafe Summer Tour Kickoff Show
Again, thank you so much for your love and support, we couldn't do this without you.  
-Pistachio